THIS IS A PRODUCT OFFERED THROUGH EDGE PLACEMENT SERVICES
(ie. IT'S NOT OUR BINDER AND WE ARE NOT ACTING FOR THE INSURER)
THIS COVER IS FOR WHERE THE INSURED IS USING SOMEONE ELSE'S INTELLECTUAL PROPERTY
Click here for our contact details
What is Licence Agreement Liability Insurance?
When two parties enter a contract allowing one party to use the intellectual property of the other party, this is known as a licensing agreement.
License agreements include warranties and indemnities and introduce liability in relation to the use of the IP in question.
The ability to settle valid claims quickly and fairly in a human way is central to our market's business philosophy, and their claims handlers are empowered to exercise their professional judgement to deliver an exceptional customer service. 
Please contact us in the first instance on any claims matter.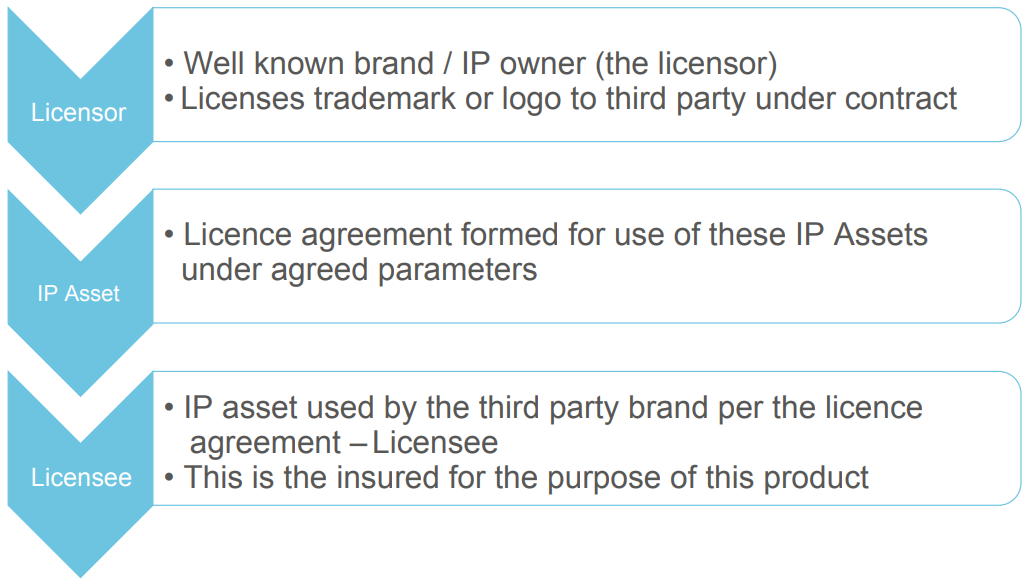 Why do your clients need this?
Rapidly expanding industry

Huge uptick in requests for cover for license agreements between licensors and licensee
Mandatory insurance requirement
Often described as Media Liability but for non-Media and Entertainment industries.
Cover is required for licensing agreements / licence transfers between a recognised brand and another party, or a transfer of intellectual property rights of some kind between one party and another.
No universal language is used within contracts in relation to cover required
Licenses relate to content such as images, logos, graphics, trademarks and characters
Who need this?
Manufacturing
Food & Drink distributors
Pharmaceutical Industry
Sports Industry
Retail Industry
Events & Video Games
Corporate Brands
Event Industry
Institutional Organisations
Art & Design Industries
Think any client who has a sponsorship, endorsement, or licencing agreement
Key Exposures
Intellectual property infringement (defence and subrogation).

Selling in unauthorised channels and/or territorial breach unless as a result of a deliberate act, which is excluded.
Breaching an agreed use of licence.
Regulatory issues could arise under competition laws relating to exclusive licences but that is more likely to fall under patent. We would be happy to consider a patent endorsement or a separate policy for patent.
Specified activities covered by the licence Usage and quality assurances.
Assignment and sub licensing. It is usual for no sub-licensing to be allowed but it could occur in error.
There will likely be strict marketing and advertising requirements imposed on the insured to protect the Licensor.
Our market's Licencing Agreement Liability policy offers cover for breach of a licence agreement between a Licensor and a Licencee for the use of content such as images, logos, trademarks, graphics and animations.
The cover is either:
One specific licencing agreement / contract, or;

Annul licencing agreements between multiple brands and the Insured

.
One insuring clause, Intellectual Property Licencing Agreement Liability split into:
Section A: Breach of IP Licencing Agreement
Section B: Intellectual Property Rights Infringement
Section C: Reputation and Brand Protection
Section D: Court Attendance Costs 
Claims made policy
Up to 18 month policy period

Option of up to a 7 year reporting (run-off) period
Our market loves:
The product is aimed at licensees who seek to use third party IP assets such as images, logos,trademarks, graphics, animations and characters under contract for a particular purpose. They have a very broad appetite in terms of the nature of the business undertaken by the licensee and the licensor. They are targeting:
Sponsorship deals

Endorsement deals

Brand collaborations and partnerships

Naming rights agreements

Licensing agreements and intellectual property rights transfer under contract

Our market will consider:
Media and entertainment, life sciences and technology companies, however there is often a broader Professional Indemnity policy we can arrange for these firms that will include intellectual property cover.
 Our market will ordinarily decline: 
Assets out of copyright

Assets already in the public domain

Unclear chains of title

IP assets with a history of previous litigation

Designs and patents (although we can arrange IP cover for patents under a separate policy)
Click here to access downloads